IP Telephony
Explore Our Services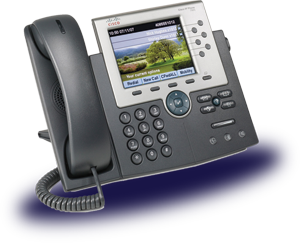 Using IP Telephony (Internet Protocol Telephony) simplifies the process of connecting with customers, while enhancing the value of interactions and increasing personalization with rich media and video. Bailey Communications is a leader in the development and installation of your IP Telephony Network!
Bailey Communications' design and installation of your IP Telephony system facilitates effective collaboration by eliminating distance barriers and overcoming traditional hurdles. Our IP Telephony systems will enable shared information and enhanced discussions, ultimately leading to better decisions and business growth.
What is IP Telephony?
IP Telephony (Internet Protocol Telephony) is the technology that uses the Internet Protocol's packet-switched connections to exchange voice, fax, and other forms of information traditionally carried over the dedicated circuit-switched connections of the public switched telephone network (PSTN). Calls travel as packets of data on shared lines in a reliable flow to the user.
IP Telephony Benefits
Reduced voice network costs
Reduced equipment administration costs
Centralized network control and management
Increased customer satisfaction through the use of distributed call center applications
Increased communications capabilities and productivity for remote and mobile employees
Better Communication
Uniformed dial plans that provide enterprise-wide extension dialing and consolidated user directory
Enterprise-wide in-house voice conferencing
Uniformed access to voice mail and unified messaging
Enhanced communications with upgraded call feature sets extended to remote and mobile employees
Ability to centrally manage and observe call center interactions yet be extended to agents located at branch offices or other remote locations
Traveling employees can access their messages, participate in conference calls and collaborate with team members
Centralized administration enables the management of multiple sites as a single system
Integrate your IP Telephony network with your other business applications
Customer relationship management (CRM)
Enterprise resource planning (ERP)
Workforce management (WFM)
Messaging and scheduling
What is Voice-Over IP (VOiP)?
VOiP is more than telephone service over the internet. Yes, it turns analog phone signals into digital signals that can be sent over the Internet. But, this technology also encompasses video, data conferencing, and desktop sharing. VOiP is a more economical form of communication than the standard phone lines in use by traditional phone companies.
How Does VOiP Benefit You?
Cost Savings & Flexibility
Reduced long-distance charges
Reduced travel costs
One network for both voice and data
Phone Portability
Portability regardless of location
All phone systems features travel with you
Rich Media Service
Video Calls
Video Conferencing
Features
Auto Attendant
Presence
Presence
Conferencing
Convergence
Tracking Options
Volume and call time
Online Call Monitoring
Add or configure extensions
Why Choose Bailey Communcations?
If your organization is looking at IP technology solutions that can help give you an edge over the competition then Bailey Communications is your service provider of choice. Our experienced and knowledgeable staff will provide your organization with the most advanced systems available, while simultaneously ensuring that your IP Telephony system meets your current and future needs. Please don't forget our Customer Support Agreement! Choose your level of service and then you'll never have to worry about downtime or increased cost.
Bailey Communications is a leading provider of network solutions and interactive classrooms for schools, non-profit organizations, and private businesses. We provide integrated solutions that meet your needs and protect your investments. We identify, execute, and manage your demands, keeping you within budget and on the cutting edge of technology.